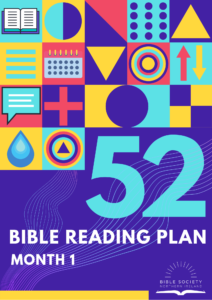 At Bible Society NI we understand that the Bible is one BIG STORY!
Throughout 2021 hundreds of individuals, churches and families engaged with our brand new resource, 52, embarking on a journey of discovery through the Bible. 
Now, these 28 Old Testament and 24 New Testament passages have been brought to life in a printed A4 book.
Ideal for families, Sunday Schools, Youth groups and even small group ministries, this book is perfect for letting you see the big Bible story as well as forming some good devotional habits too, as you read one chapter a week, ponder some simple questions, and lots more.
Maybe you want to engage with resources digitally as a family. Click the button below to sign up to receive a free monthly email of the 52 reading plan through 2024. 
Order your copy today, for just £15, plus postage, using the form below, or contact our office today on 02890 326577!
Why not check out our brand new 52 timeline video below, and discover more of the journey 52 follows as we explore the Bible's BIG Story!