Giving a gift to Bible Society NI can help change a life.
There are a few different ways to give a gift. Choose to give a one-off gift to our work or decide to set up a regular monthly gift. Every pound given will go to help someone receive the gift of God's Word.
The Bible Society of Ghana is working to provide the Bible to school pupils. Find out how the Bible is impacting this country and how you can help provide thousands of young people with a Bible here.

People in China, Cuba and Togo are desperate for Bibles. They long to read or listen to the words of Jesus. You could make their dream a reality. Twin your own Bible with one for someone else in one of these countries. Many of the people there can't afford their own copy, but you could change that by covering the cost for them… read more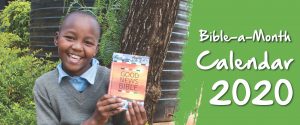 Each year the Bible-a-Month calendar shares 12 countries where amazing Bible Society projects are taking place. A gift of £5 each month is enough to give someone a Bible. It can help distribute the Bible and make sure the recipient knows how to engage with it. It can help Bible Societies run literacy classes and establish listening groups. It can help people receive the Bible in their heart language and in a format they can use… perhaps for the very first time. You can set up a regular donation and give a Bible-a-Month… read more

Leaving a gift in your will to the Bible Society in Northern Ireland will ensure that this vital ministry continues. Even a small gift could make a huge difference to someone in the future… read more