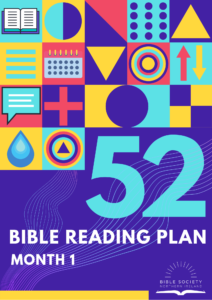 At Bible Society NI we understand that the Bible is one BIG STORY!
Since January 2021 we have been journeying through our brand new resource – 52 – to take you on a journey of discovery through the Bible.
Ideal for families, Sunday Schools, Y.F. groups and even small group ministries, the 52 plan guides you through 28 Old Testament and 24 New Testament passages, using our unique timeline, letting you see the big Bible story as well as forming some good devotional habits too.
Each week you will read one chapter of the Bible, ponder some simple questions, take on a challenge, pray and learn some memory verses.
The resource will be released monthly and will be available free of charge from this website throughout 2021.
To download your copy of month 5 to begin reading with us on Sunday 25th April 2021 follow the link below.
Get ready to discover the BIG STORY of the Bible and the Author behind it in 2021!