Dear friend,
It is more than 8 years since the start of the war in Syria. Things might be calmer but there is still ongoing conflict amongst many different factions, including Al-Qaeda and Isis.
I've been in touch with George Andrea recently and he wants to share with you an update about his life and work in Syria. George is my colleague in Syria, he leads the work of the Bible Society there.
Bible Society activity and ministry has continued throughout these difficult years of conflict. George and his Bible Society team have kept the bookshops open in Aleppo and Damascus almost every day of the war; they also visit and support churches all over Syria. Work has not suffered during these eight years of war; in fact the distribution of Bibles, New Testaments and Children's Bibles has increased. There is still a demand for more!
Life in Aleppo
George lives in Aleppo with his wife and teenage son. He said
'When you are being bombed and shelled, you will die whether you are at home or work … the risk is the same; you depend on God. So we continue our work'.
George has continued faithfully to serve in Syria despite the very real threat to his life and to his family.
People in Syria are traumatised from years of conflict, they are grieving the loss of family, friends and the life they once had. Children have not been able to attend school; the infrastructure of roads and healthcare lie in ruins. George told me 'In a City like Aleppo more than half of its pre-war population has fled to safe areas, whether in Syria or abroad. You can travel miles through abandoned areas with bombed-out buildings and no-one living there. Many Christians have fled.'
In this context, where people are overwhelmed by their situation they long for God's words of hope and peace. 'People here don't want news about the killings and the bombs. We must give them, all of the time, God's message of peace-making and love and reconciliation' said George.
George has been providing God's Word to Syrians. Syrians want Scripture and they want prayer – today we can give them both.
Providing God's Word
George and his team travel around Syria, across damaged roads and through checkpoints to deliver God's Word. They deliver thousands of Children's activity books and Bibles to children and young people; they distribute tens of thousands of pieces of Scripture to adults but they can't meet the need that exists.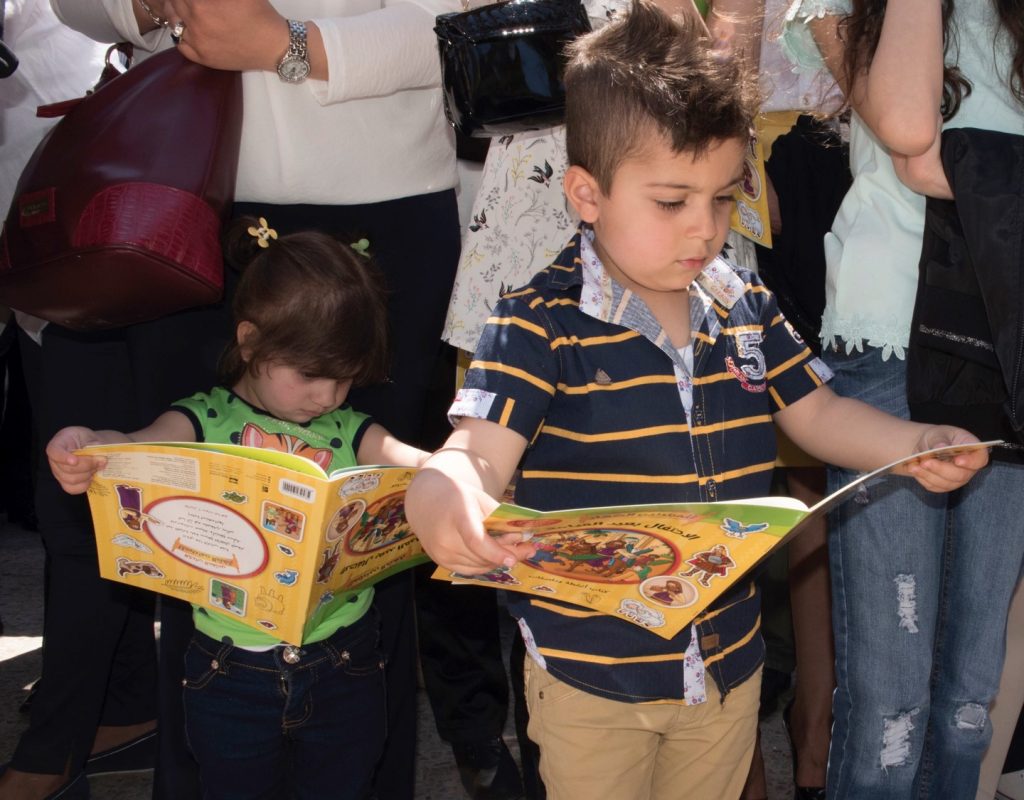 George has said that he could distribute many more booklets and Bibles if he had more resources – he needs your support now.
The Bible Society in Syria partner with the local church, who provide volunteers, to distribute God's Word to the right people in the right places.
Adults and children in Syria want the Bible and you can give it to them.
£10 could give 5 Believers a New Testament
£45 could provide Scripture booklets to 150 children in a church or hospital
£100 could provide 20 families with a Bible
Keeping Hope Alive
George has shared with me that reading the Bible and getting to know more about Jesus has kept hope alive for so many people in this war-torn part of the world where many thousands of Christians have had to leave for their own safety.
I know that you and others here in Northern Ireland will respond generously to this appeal to support George distribute Bibles in Syria.
It is so important to get Bibles into the hands of those who so desperately want a copy of God's Word – please do what you can to help us bring hope through God's Word in Syria.
Please pray for George and his family, for the rest of the Bible Society team in Syria and for Believers across this war-torn country. George said to me 'we feel your prayers and we appreciate them and your support more than anything'.
If you would like to donate to this appeal, please follow the link below.