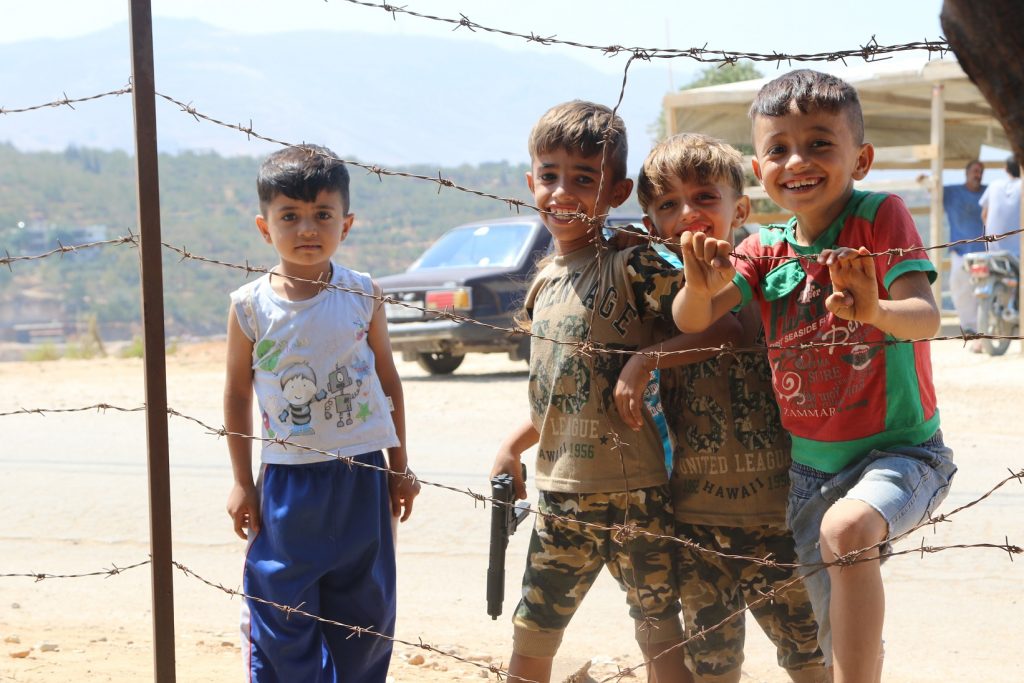 This photograph was taken at a refugee camp in Lebanon. It's difficult to look at smiling children hanging onto barbed wire, with a toy gun in hand. Conflict and war seem normal to many children in the Middle East. It's all they've known. You can share God's love with children like them.
Karam (not his real name) is 12 years old. Four years ago, he escaped the war in Syria and found a place to stay in Lebanon. He has been living in a refugee camp in Lebanon with his older sister and about 250 other families.
Karam sat down to talk to Bible Society staff in Lebanon, with flies buzzing around him and settling on his skin as he told his story:
"I have been in this camp for four years. Because of the war, we escaped to Lebanon. They accused my mum of being a spy. The last time I saw her she was walking on the road. They took my mum and put her in a van and they left. Five years have passed since I last saw my mum. I would like to be able to visit my mum in jail. I would like to say, "Hi Mum, I miss you.""
It's hard to think of the many families torn apart in the Middle East. Children left to grow up without parents. Parents struggling, separated from their children. Grief, despair and hopelessness swamping the lives of thousands who have fled.
Karam was just seven years old when his mother was taken from him. It is inspiring that through the heartache he has held on to hope. Karam still has a dream:
"My life would be better if I could read and write. I dream of being a doctor… to help people."
Karam is one of about 500 children in his refugee camp. Many have never been to school.
Keeping Hope Alive
While refugee camps in Lebanon have provided a place of safety for many thousands, there is still such need amongst them. People need basic food and materials to live. They need education and work. In Karam's refugee camp they only get electricity 3-4 days a week. Medical treatment can be expensive, and parents and children are suffering.
When the refugee crisis hit Syria in 2011 the Bible Society in Lebanon was quick to help those who sought safety in their country. They joined with other aid organisations providing much needed relief, and they partnered with local churches going into the refugee camps delivering aid.
Packages of food and medicine are still being given to families in the camps. Many receiving the packages are grateful to be able to pick up a Bible as well. While the food and medicine keep them living, nothing is comparable to the love and hope that is given in God's Word.
The Bible Society is helping local churches to run classes for the children and young people, helping them get the education that they need.
Karam and the other boys in his class are getting to hear Bible stories. Families in his camp are getting food and resources that they need.
You can help share God's love with refugees in Lebanon.
A gift of £10 will give Children's Bibles and colouring books to two children. Just £22 will provide a family with a package containing food, cleaning items, and Scripture books for both children and adults.

Please consider supporting this important work in Lebanon. A small gift can make a huge difference to someone living in a refugee camp. Click the donate button now.